General catalog
<!001>Authors

<!00>Chronological
Books of the week
<!01>Fourneau

<!02>Fornax
<!typo>Typo and around
Fourneau and Fornax

Meetings

Printings
The last one...
Raymond Callemin
Lettre
à Arthur Mallet

8 pages, format 9,7 x 20 cm.
50 exemplaires.
45 €
__________
CLS
Quasimodo
le simplet

36 pages, format 14 x 14 cm.
100 exemplaires.
10 €
__________
CLS
Un point
c'est tout

36 pages, format 14,8 x 7 cm.
100 exemplaires.
5 €

(cliquer sur les images
pour en savoir plus)
Free

Some pages of this site:

... for those who are too lazy to seek.
Visits
3902868 visitors
54 visitors online
Fornax Blog (& archives) - Art
Art
Nuit des musées - by cls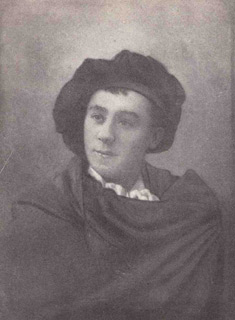 Paul Fort, 1914. Oui, oui, le Paul Fort qui fut copain de Brassens, Prince des poètes, risée des libraires d'ancien qui prétendent qu'un ouvrage de lui sans dédicace est tellement rare qu'il vaut plus cher que le même dans le même état avec. Ce Paul Fort-là, oui, qui fut aussi apparenté aux Vallette (Alfred, directeur du Mercure de France et sa Rachilde) puisque leur fille a épousé son neveu... Un Paul Fort directeur de revues dont la plus connue est Vers et Prose mais ce n'est pas d'elle dont il est question ici mais de Poèmes de France dont il est l'unique rédacteur. Dont le premier numéro... est consacré en presque totalité à la cathédrale de Reims un peu démolie par la Grosse Bertha. Le voici en totalité, ce premier numéro (coll. cls) :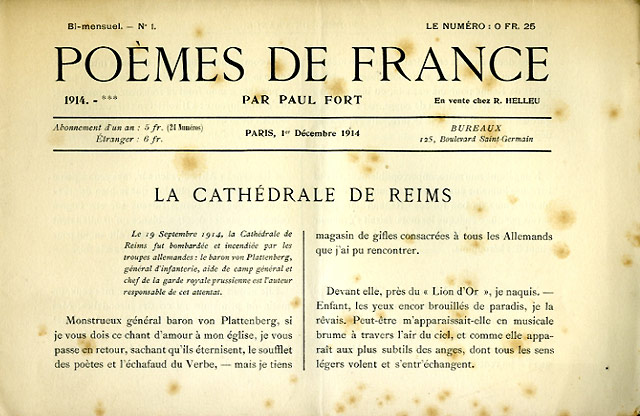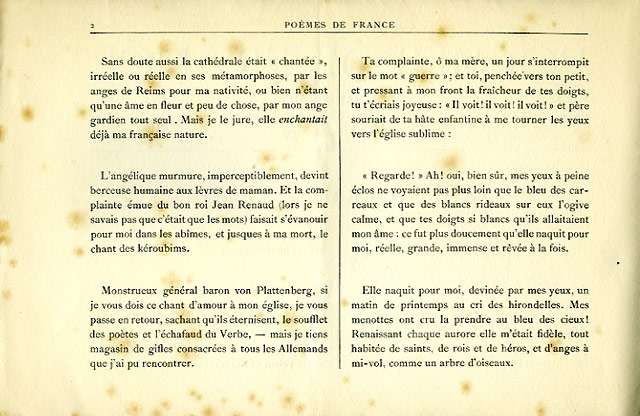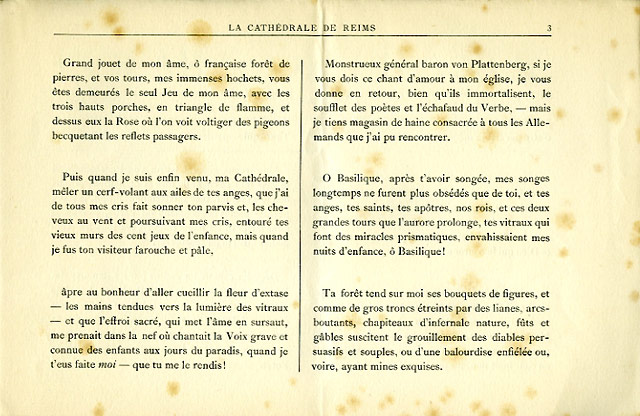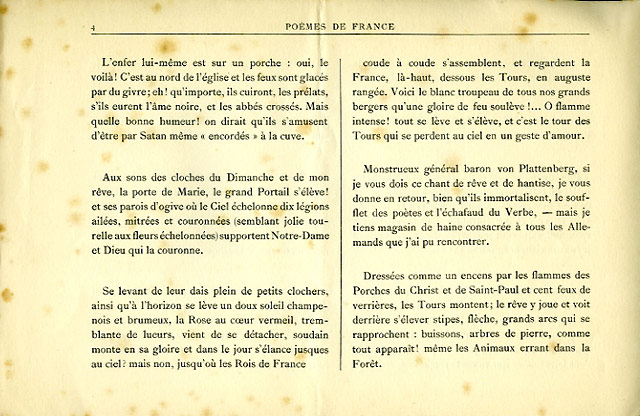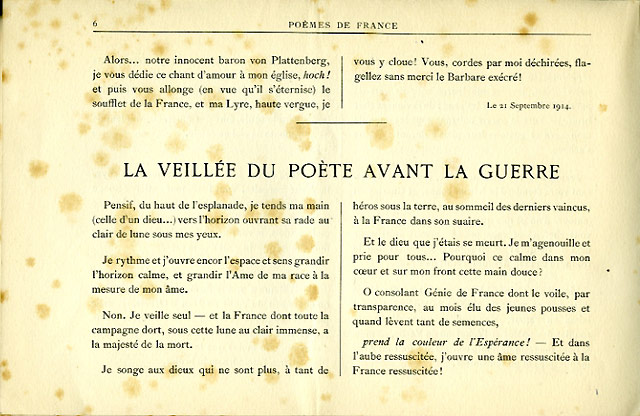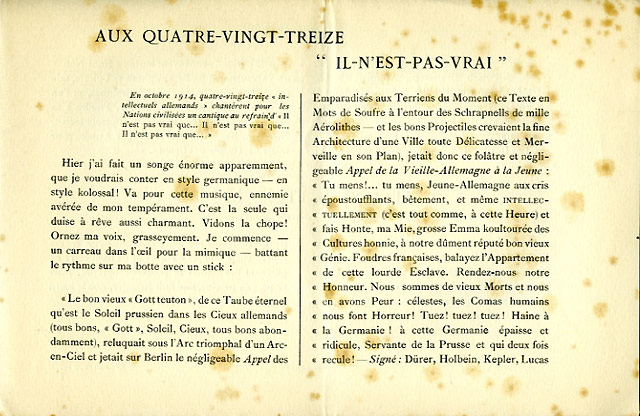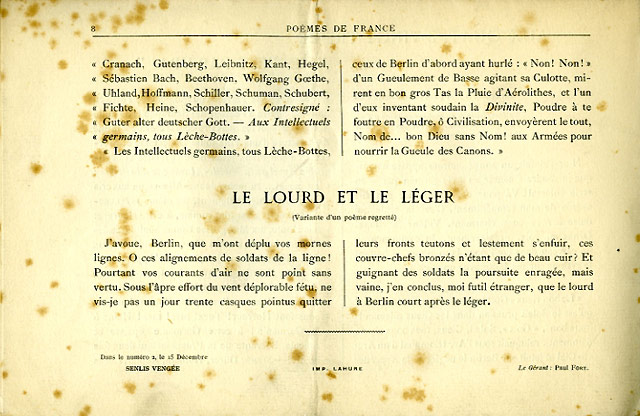 La France étant ce qu'elle est et les travaux du bâtiment ce qu'ils sont, il fallut un certain temps pour réparer les dégâts. Enfin, toujours est-il que voici quelques jours la cathédrale des sacres a fini par se montrer sans les échafaudages qui l'habillaient depuis le siècle dernier.
Se trouvant ainsi un peu nue, elle eut l'idée de s'habiller de lumière. La chose se fit hier, 14 mai 2011 pour la Nuit des musées. On en verra quelques témoignages photographiques ci-dessous. Flous et de mauvaise qualité pour vous punir de n'avoir pas été dans la foule vous-même, et aussi parce qu'il est malaisé  de photographier de nuit, entouré d'individus bousculeurs, en pose, sans pied photographique, avec un appareil vieillissant. Non mais !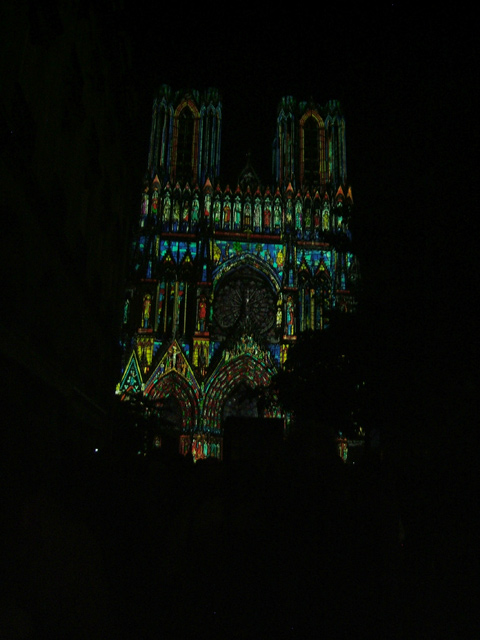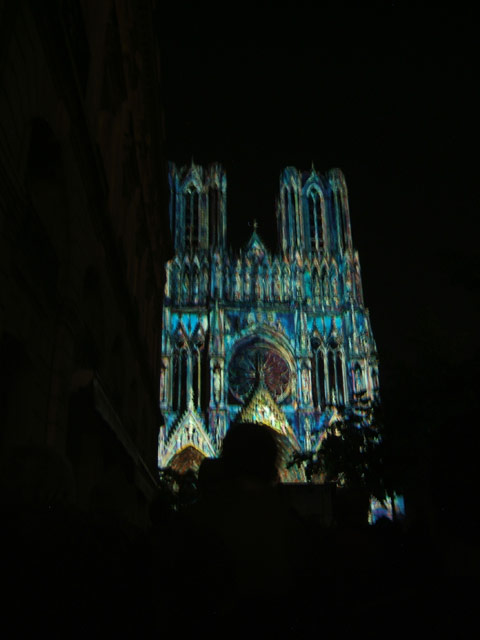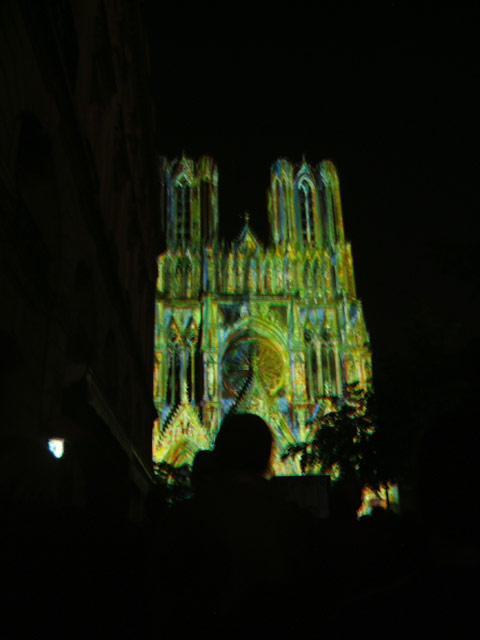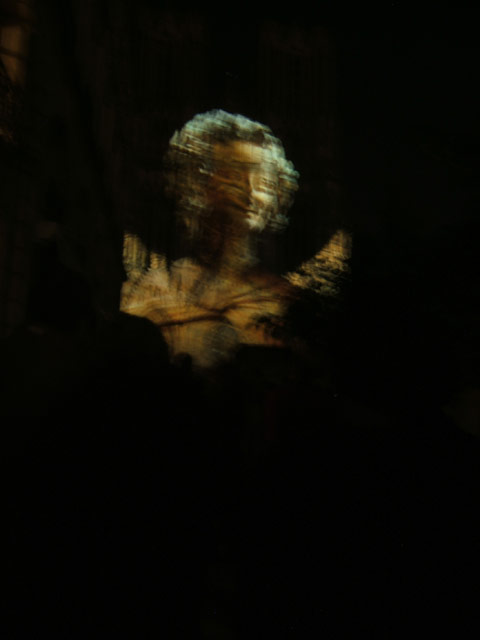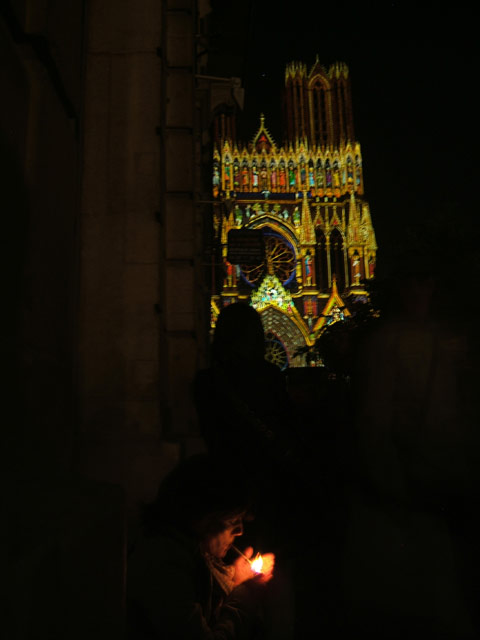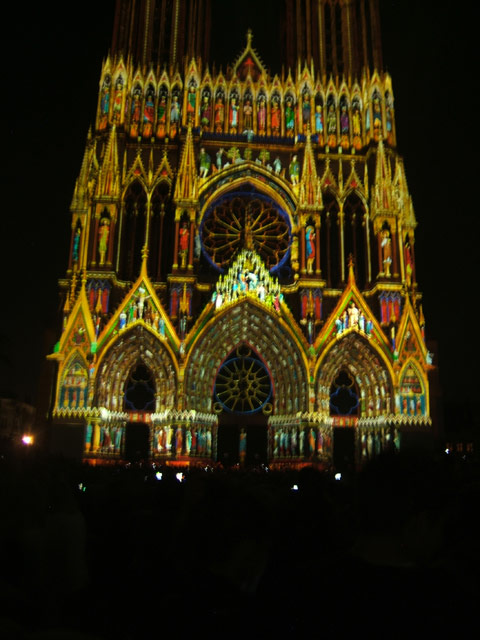 Categories


Undergrowth typography


Typographical practice


The picture of the day...


Tales ans short stories


Streets typography


Rural typo


Proverbs


Post-competition


Places of conviviality


My masters


Internal news


Friends


External news


Editorial practice


Competition


Bookish teratology


Book-collecting


Art


Alphabet
last posts
Last comments
Archives
June 2020
S
M
T
W
T
F
S
01
02
03
04
05
06
07
08
09
10
11
12
13
14
15
16
17
18
19
20
21
22
23
24
25
26
27
28
29
30