Post-competition
Streets names [22] - by cls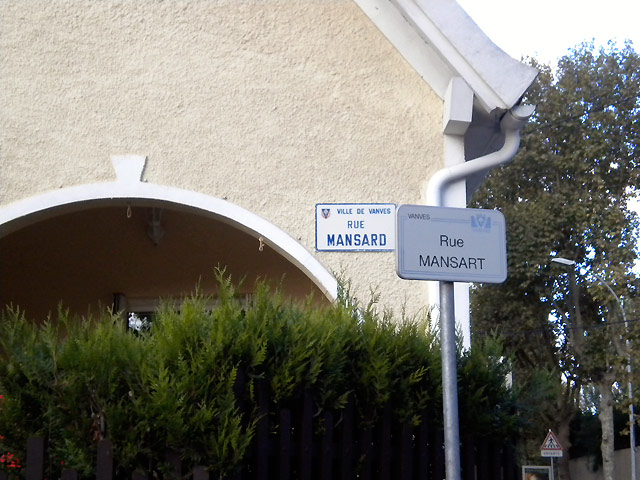 Cet envoi photographique de l'ami Michel Lasserre (dont nous célébrons de mille mercis la mansuétude) ouvre en nous un petit espace de réflexion et (peut-être) devant nous un grand espace de découverte. Il s'agit, on l'aura deviné, de circonscrire, d'étudier, voire d'augmenter le recensement de la minuscule famille des déténymes. Quoi ! vous ne savez pas ce qu'est la famille des déténymes ? C'est, bien sûr, la famille constituée de duos de patronymes dont l'orthographe ne varie entre l'un et l'autre membre du duo que par la consonne finale: « d » pour l'un, « t » pour l'autre.
Cette famille compte — tout un chacun sait cela depuis l'âge de sept ans révolus (âge de raison) jusqu'à, au moins, celui de soixante-dix-sept (âge d'alzheimerisation) — les très célèbres, melonesques, moustachus et tintiniens Dupond-Dupont. Moins connus, sauf des typographes et typographistes, les Garamond-Garamont. Claude Garamond, graveur du

XVI

e siècle, créa un caractère: le Garamond. On le copia et l'imita dans les siècles qui suivirent avec des Garamont.
Récemment entrés dans la famille, la photo qui adorne ce billet en fait foi, les Mansard-Mansart. La police était le lien de famille tout naturel entre les Dupond-Dupont et les Garamond-Garamont. Mais quel peut bien être le lien entre les deux premiers duos et les Mansard-Mansart ? François Mansart qui n'était pas typograveur et encore moins policier, qui n'inventa pas non plus la mansarde, en tant qu'architecte de grande renommée devait être policé et fin lettré... peut-être est-ce suffisant pour tisser un début de lien ? Oui ? peut-être...
Quant à la famille des détényme, il serait souhaitable qu'elle ne se cantonne pas à ces trois duos-ci, histoire de faire parler d'elle encore un peu dans un avenir point trop éloigné...


Categories


Undergrowth typography


Typographical practice


The picture of the day...


Tales ans short stories


Streets typography


Rural typo


Proverbs


Post-competition


Places of conviviality


My masters


Internal news


Friends


External news


Editorial practice


Competition


Bookish teratology


Book-collecting


Art


Alphabet
last posts
Last comments
Archives
September 2020
S
M
T
W
T
F
S
01
02
03
04
05
06
07
08
09
10
11
12
13
14
15
16
17
18
19
20
21
22
23
24
25
26
27
28
29
30