External news
De nos auteurs : Jacques Abeille - by Saturnin_Lassicope
J'ouvre exceptionnellement cet espace où d'ordinaire j'évolue seul (si l'on excepte quelques rares commentaires) à un ami peu disert d'ordinaire, un peu secret, pour ne pas dire fuyant. N'étant pas un censeur, je lui laisse carte blanche.
cls
Les yeux de l'imagination


On a beau s'être posé des œillères très efficaces, et en user, et en abuser, il arrive nécessairement un moment où l'on est obligé d'en convenir : les pratiques du monde changent. Affaire de déclic, d'élément déclencheur, cette information que l'on se cachait à soi-même finit par arriver à la conscience, et par s'imposer qu'on le veuille ou non.

1982. Grâce à la clairvoyance de Bernard Noël, Jacques Abeille publie enfin son premier roman : Les Jardins statuaires. Chez Flammarion. Peu de réactions.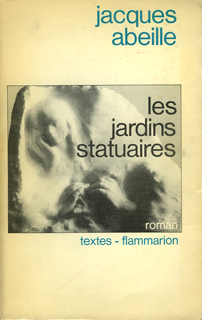 2004
. Joëlle Losfeld, courageuse, décide de publier à nouveau ce premier roman (il y en eut bien d'autres), prévoyant aussi de donner ou redonner les autres romans. Peu de réactions. Et le projet ne se fit pas.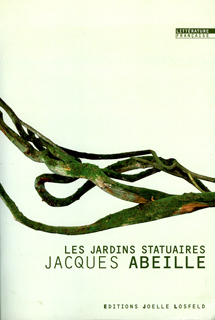 2010. Une troisième édition voit le jour, inaugurée par une couverture dessinée par François Schuiten. Elle se double d'une œuvre originale, les Mers perdues, cosignée par le piéton de Bordeaux et le baron bruxellois. Littérature et dessins. Et l'on en cause.
Le déclic en moi s'est opéré. Oui, c'est enfin arrivé à ma conscience : nous sommes – et j'ai l'obligation de dire : hélas – bien passés de la civilisation de l'écrit à celle de l'image. Les Jardins statuaires ont été publiés par deux fois dans une quasi indifférence. On associe leur auteur à un artiste de grand talent et de grande renommée et on commence à butiner autour de l'Abeille. Ce qui est bénéfique pour lui (et l'on ne peut que s'en réjouir, ce que l'on fait entre ces parenthèses) mais triste pour la littérature. En France, il est courant de dire que le succès n'arrive qu'à force d'abaissement, de renoncement et de compromissions. Que les quelques vieux lecteurs se rassurent, la littérature de Jacques Abeille n'a rien perdu de son charme ni le récit de son éclat. Pour les autres, qu'ils découvrent, ils ne seront pas déçus.

Cela dit et affirmé, je déplore que la puissance seule des mots ne soit plus capable d'attirer l'attention du lecteur. Ou qu'on nous le fasse croire. Je déplore qu'il lui faille désormais de l'image comme béquille à l'imagination. Ou qu'on nous le fasse croire. Pourtant les mots de Jacques Abeille sont si justes, sa langue est si forte, son imagination est si surprenante que les images semblent bien inutiles. Les mots seuls les créent. De leur simple lecture se dégagent des images mentales dans la tête de chaque lecteur. Images inédites, privées, originales, personnelles. Pourquoi donc alors imposer à tous des images – belles, certes, fascinantes parfois, magistrales de temps en temps – mais des images stéréotypantes (qu'on ne me fasse pas dire stéréotypées), des images tueuses d'univers personnels. La force incomparable de la littérature réside en ce qu'elle permet la naissance d'autant d'univers qu'il y a de lecteurs. L'illustrer, c'est l'affadir, c'est lui supprimer des virtualités, c'est la normaliser à la perception de l'artiste qui illustre. C'est réduire des potentialités infinies à une vision imposée. C'est frustrer le lecteur de sa propre imagination. Situation d'autant plus grave que l'artiste a du talent ; d'autant plus grave que l'écrivain est puissant et que son univers littéraire est original. Une situation qui favorise la paresse d'un lecteur qui ne prend désormais plus la peine de se forger sa propre représentation. Une situation qui contribue – nous l'affirmons du bout des lèvres et avec d'invisibles guillemets mais nous l'affirmons toutefois – au formatage des cerveaux.
Illustrer un Max du Veuzit, peu nous importe bien sûr, que ce soit réalisé par Peynet ou par Leonard de Vinci ; illustrer un Jacques Abeille, c'est une autre affaire. Quittons, à des fins d'illustration (!), Abeille pour un autre auteur mis en image par un autre artiste. J'ai eu le malheur de découvrir la Divine Comédie dans l'édition illustrée par Gustave Doré. Admirables dessins, remarquables gravures sur bois, époustouflante édition. Mais les images puissantes de Doré se sont si fortement imposées en moi qu'elles ont effacé la silhouette de Dante, et ses vers. Quand je pense à la Divine Comédie, ce ne sont pas mes propres images que je vois, forgées à partir de la lecture du poème mais les tourbillonnantes cohortes d'âmes tourmentées que Doré imagina pour l'Enfer. Et c'est réellement infernal – car rien n'y fait –, mon esprit y revient toujours. Doré m'a volé Dante. Il faudrait que je me le réapproprie, mais comment ? En apprenant le vieux florentin et en le lisant dans sa langue d'origine ? Oui, pourquoi pas... Un autre exemple, différent. Alice, celle qui batifole au pays des Merveilles ou derrière le miroir, est blonde. C'est ainsi que l'a décrite le révérend Dogson. Mais les photos qu'il fit d'Alice Liddell montrent une petite brune aux cheveux courts. Depuis que j'ai découvert les photos, les deux images d'Alice se superposent en moi et, lorsqu'il m'arrive de voir des adaptations ou des illustrations tirées des romans, quelque chose me gêne dans cette blondeur voulue par l'auteur et toujours respectée par les illustrateurs. Elle ne colle pas à la « réalité ». Deux points dans cette anecdote. Le premier manifeste la puissance de l'image qui s'impose, même contre toute vérité. Car la vérité d'Alice est la blondeur même si la réalité du modèle est brune. Quand vérité et réalité se confondent, tout va bien ; le hiatus naît de leur différence. Le second montre que lorsque la multiplicité des interprétations passe un certain seuil, (les interprétations d'Alice sont innombrables) le lecteur (ou, dans le cas présent, le regardeur, le spectateur) n'est plus vraiment influencé par un modèle puisqu'il a déjà intégré tous les autres avant. Aucune image ne lui est plus imposée puisqu'il les a toutes à sa disposition ; il peut alors se tourner vers lui-même et forger son interprétation, son image propre à partir des mots quand il en revient au texte.
De cette anecdote, et plus généralement de ce que j'ai dit plus haut, je ne tirerai, en guise de conclusion, qu'une alternative : ou l'on publie la littérature de Jacques Abeille seule, pour laisser au lecteur le plaisir solitaire d'imaginer ses propres images, ou l'on multiplie les illustrations et les illustrateurs à l'envie pour que, noyé sous le flot d'images, le spectateur se tourne à nouveau vers le texte et redevienne lecteur. Malgré son côté onaniste, j'aurais tendance à préférer la première solution ; notre époque ira, sans l'ombre d'une hésitation, en direction de la seconde, beaucoup plus facile. Allez les peintres, à vos pinceaux ; allez les dessinateurs, à vos crayons. Jacques Abeille arrive. Enfin !...

Je ne suis qu'un modeste typographe. Un homme dont l'existence est vouée aux mots et qui ne vit que par eux. D'aucuns, et pas des moindres, m'ont accordé le don de folie. C'est faux, bien sûr, et je le regrette fort. Mais je laisse dire car j'ai la permission, sous ce couvert, de dire ce que je pense en minimisant les conséquences dans mes rapports avec les autres.

Saturnin Lassicope
Pour complaire :
Jeu graphique. Trouver l'intruse dans toutes ces couvertures.
Cette iconographie peut également servir de base à
une bibliographie méli-mélo (et fort incomplète)
de Jacques Abeille

(certaines couvertures ont des liens qui conduisent à des compléments d'information)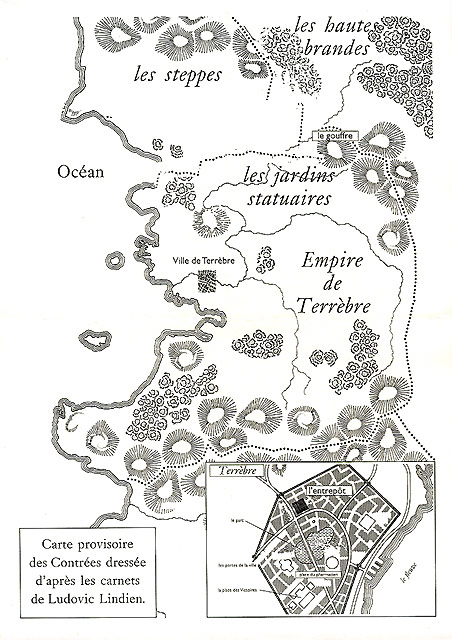 Categories


Undergrowth typography


Typographical practice


The picture of the day...


Tales ans short stories


Streets typography


Rural typo


Proverbs


Post-competition


Places of conviviality


My masters


Internal news


Friends


External news


Editorial practice


Competition


Bookish teratology


Book-collecting


Art


Alphabet
last posts
Last comments
Archives
June 2020
S
M
T
W
T
F
S
01
02
03
04
05
06
07
08
09
10
11
12
13
14
15
16
17
18
19
20
21
22
23
24
25
26
27
28
29
30