Bookish teratology
Chez les éditeurs [4] - by cls
Bibliotératologie, 8
Couverture double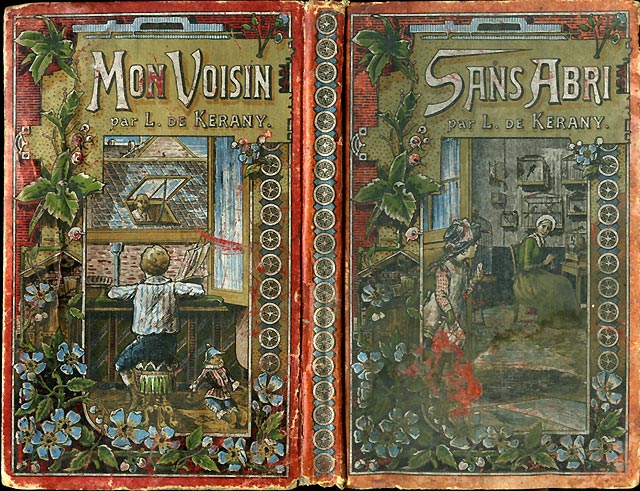 Trouvé dans une brocante ce jour d'hui, cet ouvrage a une couverture (cartonnage d'éditeur, impression polychrome sur papier) dans un état assez pitoyable tout en gardant un grand charme. Ce n'est toutefois pas son état qui en fait un objet d'étude bibliotératologique. Mais plutôt, on le constate aisément, le fait que cette couverture n'est pas composée comme le sont d'ordinaire les couvertures de livres. De part et d'autre du dos (joliment orné, constatons-le au passage), nous trouvons non pas un titre (premier plat, à droite du dos) et une quatrième ordinaire (deuxième plat, à gauche du dos, traditionnellement pour un tel cartonnage, soit vierge, soit ornée d'un décor neutre) mais bel et bien deux titres différents, conçus suivant la même mise en page et donc équivalents graphiquement parlant. Le fait est déjà assez rare pour être noté. En poursuivant notre investigation on constate que lorsque nous lisons les deux plats comme il est présenté sur la photo, c'est à dire de gauche à droite en respectant le sens habituel de lecture en français, les deux titres présentent dans l'ordre les deux nouvelles qui constituent le texte de l'ouvrage. Mais lire la couverture ainsi n'est pas naturel. Il est plus courant, on en conviendra, de lire la couverture alors que l'ouvrage est refermé. On lit donc d'abord le premier plat (à droite du dos) et on retourne éventuellement l'ouvrage pour lire le second. Dans ce cas de figure, la lecture des titres est dans l'ordre inverse de celui des nouvelles. Dénonçons tout de suite l'éditeur qui est coupable de cette plaisante anomalie : il s'agit de Desclée, de Brouwer et Cie. Que nos lecteurs (si nous en avons) dénoncent d'éventuels autres éditeurs coupables de la même anomalie, cela dans le but avoué et louable de faire avancer la science bibliotératologique. Nous les remercions ici par avance.
Comments
Nobody gave a comment yet.
Be the first to do so!
Categories


Undergrowth typography


Typographical practice


Typo des rues


The picture of the day...


Tales ans short stories


Streets typography


Rural typo


Proverbs


Printing


Post-competition


Places of conviviality


My masters


Internal news


Friends


Fourneau-Fornax


External news


Editorial practice


Competition


Bookish teratology


Book-collecting


Bibliophilie


Art


Alphabet
last posts
Last comments
Archives
October 2023
S
M
T
W
T
F
S
01
02
03
04
05
06
07
08
09
10
11
12
13
14
15
16
17
18
19
20
21
22
23
24
25
26
27
28
29
30
31