Typographical practice
The tools of the workshop [2] - by cls
Brucelles ou pinces typo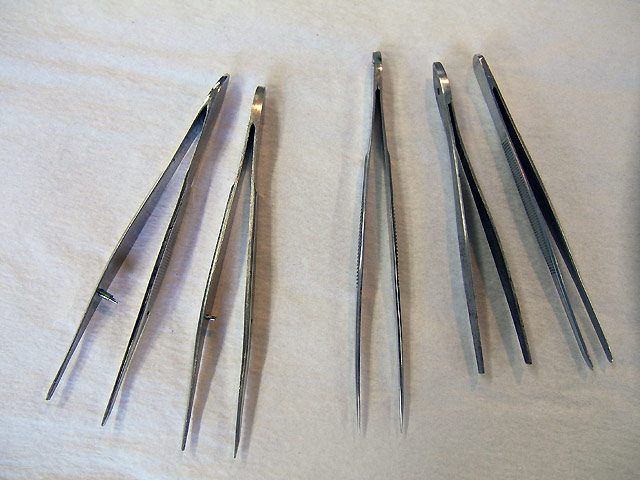 Les pinces typo ou brucelles font partie du matériel qui appartient en propre au typographe. Elles servent à plusieurs choses. Pendant la composition, à prendre dans la casse les caractères ou les espaces que des doigts trop gros auraient du mal à saisir. Elles évitent un peu, dans ce cas, de se trop salir les doigts quand la casse est poussiéreuse. Pendant la correction, elles servent à extraire d'une ligne un caractère à changer. Attention alors à bien saisir le caractère sous peine de voir les pinces glisser et abîmer l'œil du caractère.
Dans les cinq pinces ci-dessus, seules les deux de gauche sont des pinces typo réelles. Les trois autres ont été élues à ce grade alors que leur vocation première était différente. Celle de droite était une « vulgaire » pince à timbres, celle à sa gauche, trouvée dans une brocante, courtaude, bien ouverte, aux extrémités larges est pratique pour aller chercher des moyens ou gros corps coincés au fond des cassetins, celle du milieu, longue et aux extrémités acérées, est idéale pour se saisir des petits corps dans les petites casses (celles de 50 cm de large).
Comments
Nobody gave a comment yet.
Be the first to do so!
Categories


Undergrowth typography


Typographical practice


Typo des rues


The picture of the day...


Tales ans short stories


Streets typography


Rural typo


Proverbs


Post-competition


Places of conviviality


My masters


Internal news


Friends


External news


Editorial practice


Competition


Bookish teratology


Book-collecting


Bibliophilie


Art


Alphabet
last posts
Last comments
Archives
October 2022
S
M
T
W
T
F
S
01
02
03
04
05
06
07
08
09
10
11
12
13
14
15
16
17
18
19
20
21
22
23
24
25
26
27
28
29
30
31