External news
De nos auteurs : Esther L - by cls
Expérimental
L'un de nos auteurs fétiches, Esther L, vient de nous communiquer qu'elle abandonnait provisoirement la littérature, domaine dans lequel elle s'était déjà fait une solide réputation, pour la vidéo expérimentale. Avant de montrer l'une de ses dernières créations, rappelons qu'elle avait donné à Fornax un ouvrage d'une grande tenue dans la collection aphorisme.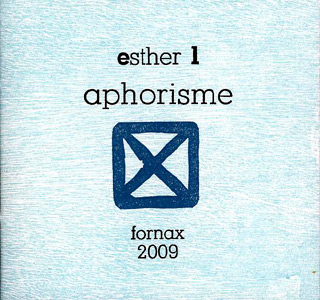 On ne saurait reprocher à un auteur bien inséré dans son temps, de s'adonner aux arts qui en sont l'émanation. Et, en nous confiant l'œuvre ci-dessus, elle a bien insisté sur le fait que cet abandon de la littérature n'était que temporaire. Ce qui nous a rassuré pour son avenir à Fornax.
Comments
Nobody gave a comment yet.
Be the first to do so!
Categories


Undergrowth typography


Typographical practice


Typo des rues


The picture of the day...


Tales ans short stories


Streets typography


Rural typo


Proverbs


Printing


Post-competition


Places of conviviality


My masters


Internal news


Friends


Fourneau-Fornax


External news


Editorial practice


Competition


Bookish teratology


Book-collecting


Bibliophilie


Art


Alphabet
last posts
Last comments
Archives
October 2023
S
M
T
W
T
F
S
01
02
03
04
05
06
07
08
09
10
11
12
13
14
15
16
17
18
19
20
21
22
23
24
25
26
27
28
29
30
31